How can I write like an expert and get paid for it? Is there anyone out there who will pay me for my writing services? The answer is yes. A lot of people make money online from writing articles, both locally and on the international level. It isn't rocket science and it can be achieved perfectly.
Freelance writing refers to writing for publications for both offline and online journals and magazines. A lot of people think freelance writing is simply picking up a laptop, hitting Microsoft Word, Evernote or any other word document or note pad and commence writing. The word 'gig' is used to refer to categories or kinds of jobs available for freelancers, on the other hand, for anyone to get paid to write, you must master two to five or even more writing gigs.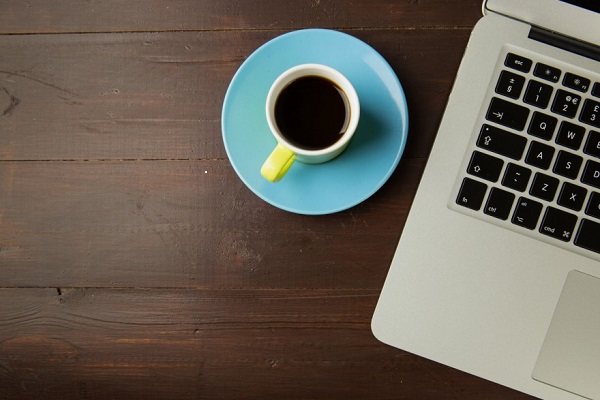 This post will discuss how to write like an expert and get paid for your articles.
The first step to consider before venturing into a writing career is to understand the 'gig' or writing niche you specialize in because this is the first step to success if you want to get paid to write. There are bankable gigs a writer can choose from:
Blogging: this is the most important and most required gig in the writing industry. Blogs are online journals that contain information and must be updated regularly (I used to screw up on this part) and it is very much different from a website. It is a portfolio that showcases your writing prowess to the world and prospective clients who will pay you to write for them. From here, clients can contact you to write for them if your content is of good quality and not heavy in quantity.
E-book Writing: many information marketers suck at writing information e-books and therefore, give grammatical blunders and irrelevant copy and paste information. So to that note, they search for quality writers who make money from writing quality contents.
Email Newsletters: you remember those mails you get in your email inbox even at 2.am? Yeah, people like you and I are paid good money to write them. To become an expert here, you must know how to write subscriber emails that convert (convince a reader or readers as the case may be to take an action which is the purpose of their receiving such mails).
Find out how I earned my first $50 on the internet from writing just articles alone.
Of course, there are other lucrative gigs that you can write and get paid for, from ads, sales letters, speeches, resumes, reviews, research contents, white paper content, survey copy, to ghost writing, translation services, SEO content and so on.
See How To Never Run Out Of Content Ideas
After having selected your area(s) of specialization, the next line of action will be to find clients. This is one crucial aspect that ensures the progress or failures when it comes to making money online and for anyone who wants to make a living from writing as a full time career. The idea here is to find the right clients not just any clients. What do I mean? Let's say you start off as a specialist in e-book writing, your client base should be information marketers or people who want to sell books but have no idea on how to start writing and not companies who need a sales letter writing expert or CEOs who will require a speech for presentations during board meetings. You get it right? Good let's proceed.
Here are some methods to locating and if possible land a writing gig:
Social Media: this is a great place to find clients and for clients to find you because, here your profile speaks for you. To get best results, you will need to have a professional LinkedIn account which was built mostly for professionals in many fields, a Twitter account, Facebook account but you will mostly target groups and company profiles for best results, Instagram, Pinterest and Google Plus. These fore mentioned social media, can land you clients when you search with correct phrases.
Search Engines: using Google as a case study, go to the search box and put in this search phrase 'write for us and get paid', the rest is history. There are other phrases like 'writers needed' or 'websites that pay'. These phrases help land clients that will pay you to write, if you land on the right foot.
Blogs or Websites: ever visited some blogs due to the good content they have? If yes, do you know that some of these blogs have a page for people who might want to write and get paid for their services? Simply scroll down to the bottom of that page you are visiting, in most cases the owners of the blog(s), make it easier for readers to find the write and get paid section, which contains information on how writers can get started usually you have to pitch or send mails to these blog or website owners.
Content Mills: I as a person, hate the sound of this because they pay you lesser than you deserve. You might see someone paying you $20 for an article that should actually fetch you 100% more. Well content mills are websites, where you find jobs for freelance writers sometimes, if you perform properly, you might end up having constant contracts from your clients.
Some examples of such content mills include:
After locating prospective clients that will pay for your content, the following procedures should be taken sequentially:
Get the client(s) email address: find the personal email address of the client you intend to work with, not some official email address of the client(s). If you actually want your pitch to be attended to.
Pitch Your Clients: pitching here refers to a wonderfully crafted email you send to your prospective clients, this equally shows your writing skill and your ability to come up with good content, if you are awarded the article contract. Observe their requirements, topics and writing style on their blogs; this is for any writing slot you may find on blogs on the other hand, you need to come up with topics that should benefit your clients the most if they do not give you any topics to write on. This is how you make them pay you what you deserve.
How I was able to master the art of pitching the right clients and landed that writing gig I desired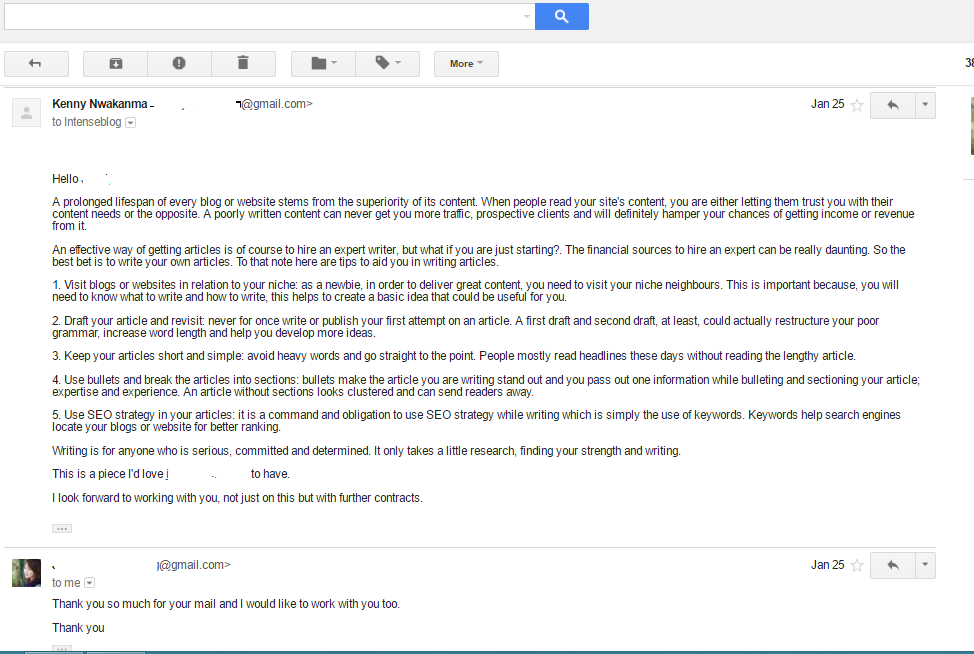 Write Quality Content: take your time, do good research, put your ideas in a scratch pad, draft or note pad before you commence writing the article proper. This helps you stay on track while writing, will make sure your grammar isn't poor and will help structure your work properly.
Avoid Plagiarism: plagiarism here means "pure copy and paste" without giving the original author his deserved credits. Most clients run or test articles through plagiarism and grammar software for the sake of original and quality content. Once it is discovered that you are either a copy and paste freak or a person with poor grammar, you article might not be paid for at all and you stand the chances of losing that client and things could get further messy if it were on a content mill that you landed that gig because, the reviews you get there are what increases your chances of winning more gigs.
It is advisable to always check the originality of every word of your article by using this online tool or you can try out this other free tool.
Wanting to write and get paid, has never been easier. Nevertheless, it is a method of ensuring that one can make money online and earn a living as a freelance writer in Nigeria or anywhere in the world.
Once you have the right knowledge, zeal and mind-set, you can write and get paid from any part of the world. Most writers are in African or third world countries and still write great content for clients all over the world; thank goodness for the internet.
Find out how to kick start a full time career in freelance writing and smile at your earnings