How To Open A Clickbank Account In Nigeria For Free (2019).
How to open a clickbank account in Nigeria for free. If you are a very good customer of Google's search engine, you will discover the above search phrase, especially if you are in the make money online search party.
Owning a clickbank account, has become cumbersome especially with the issues of VPNs, dynamic IPs and all that. Many people have hit brick walls when trying to open a clickbank account. Well the good news is this, I will teach it for free on this post today. There is no request for your money, well at least not yet.
On one of my numerous Nairaland threads, I opened Clickbank accounts for seven people who contacted me for free but the consequent persons I charged them =N=2,000.
The issue with some of us is greed, before that thread was opened, I had a thread were I opened accounts free for everyone, only for these persons to sell those accounts for as much as =N=15,000 per account. One person in particular had two monikers and approached me again not knowing that, I knew of his plans. Thank God the thread was deleted due to some extra problems.
Five months ago, I was touched by a fellow who told me his father was hospitalized and he had exhausted all he saved up, no jobs for 7 years after graduating so I had to teach him this and he made his first sale in the first week, only for him to package my tutorial in an eBook and sell for =N=6500. Why? Had i turned you down, he would have called me wicked or whatever well its his problem, not mine.
For this account to be full and functional, you will need the following:
Requirements For How To Open A Clickbank Account For Free.
A stable 3G network, MTN is the best in my area and I recommend MTN in the day because of their stable IP, but at night it becomes dynamic (7pm to be précised). Airtel's IP is always dynamic but stable by midnight.
A PC. To be on a safe side, you will need a PC, android phones are okay but most VPN services on android are wacky and can mess you up along the line.
Epic Browser. Usually, epic browser comes as an online installer of about 1.5mb, once you download and execute it, it will need to download another 45mb file so you have to stay connected to the internet as you do this. This browser serves as a VPN and cookie blocker to avoid websites from knowing your real IP, how many of us here know that Mozilla and Safari browsers sell your identities to companies for promotional purposes? Bet you don't. But if you already have epic browser, let's move on. You can

download it here

if you do not want the online installer.
A virgin email account: I prefer Gmail to any other due to swift response and its ability to shield your IP from tracing when sending out emails…
A payoneer card, if you don't have but you are sure you can get it then continue with the tutorial. If you haven't registered for a payoneer card and you need one

click here.

.
While you read this, don't miss out on this free training I once sold for $30. The contents of this training are the updated method of creating Clickbank accounts for non-supported countries, a list of the most lucrative niches on Clickbank, that made me $1000 in my second 3 weeks on Clickbank and how to select the products I promote . I will be taking this down by the time the downloads hit 25, right now, there are 15 downloads already.. Click here to download your free ebook.
Instructions To Open A Clickbank Account For Free.
After creating a Gmail account and installing Epic Browser on your PC, launch epic browser. And open four tabs.
On the top right hand of epic browser, you will see a red arrow (if you are using it for the first time). For the purpose of this tutorial, we will be making use of the UK. Click that red arrow, you should see 'epic's encrypted proxy', click on and select UK. Once successful, the arrow should turn green. (screenshots below).
On tab1: visit

www.whoer.net,

once you see location United Kingdom (GB), you are safe to continue, but if you don't, deactivate your Kaspersky, AVG and Bitdefender antivirus because they alter epic browser. Try the step again and you should see location changed to UK.
Tab2: login to your Gmail account.
Tab3: visit

fakenamegenerator.com


Where you have gender, if you are male select male, if you are a female select female. Where you have name set, select England/ Wales. On country section, select United Kingdom. See screenshot below.
Copy every detail there into your PC's notepad, for easy access. The only info you will need are phone number, city, postal code and street address. It seems Clickbank upped their game by adding State as in the state of your generated city..
So to by pass this, if you generate a city like MICKLEOVER, simply Google ' MICKLEOVER then once you see Wikipedia's info on that city, open it and you'll see the state of your generated city.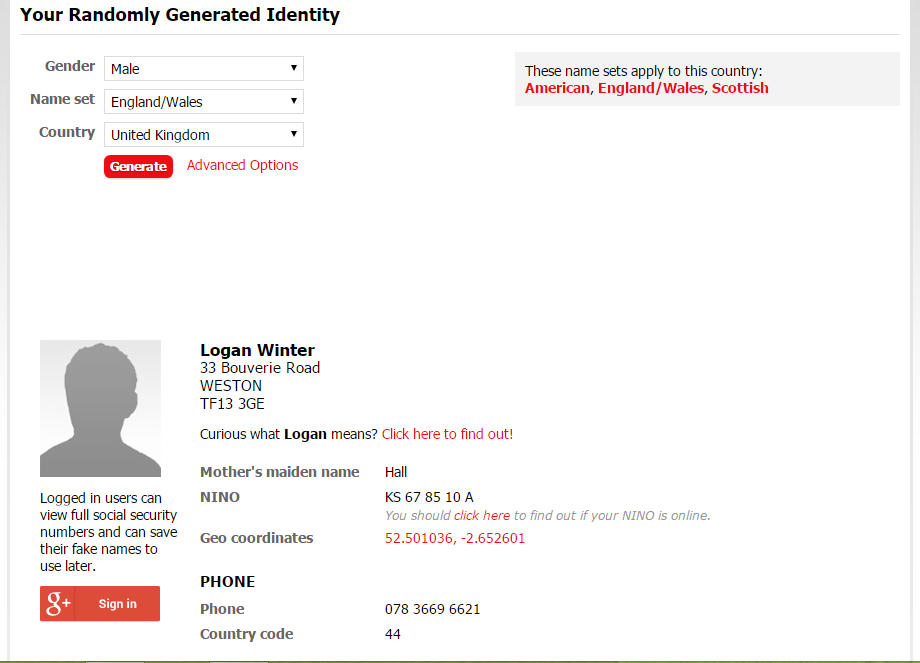 Tab4: visit

www.clickbank.com

, then click on create account. Input your original first and last name as it appears on your Payoneer card, on the spaces provided there, not the name gotten from

fakenamegenerator.com.

On the column for street address input the street address gotten from fakenamegenerator.com, in our case our address is 33 Bouverie Road. (Please source for your own address this is solely for this tutorial.)
On the space for postal code, input your postal code, in our case it is TF13 3GE in block letters please. For city type in your generated city, ours is WESTON. Then phone number, ours is +44 783 669 6621.
It is simple just remove the 0 (zero) before the 7 and you are good. Then input your virgin email address.
Click next step, you should now land on a section called Banking Information. Here you will need PAYEE name, which is your original name. Input your OWN NAME as it appears on your Payoneer card.
Next step is the country your bank is situated or located in, select United Kingdom, for bank name put in Citibank or Barclays bank. Accept the terms and conditions, then input the captcha.
If you followed all I said, you should be successful and land on ACCOUNT INFORMATION page. Once you are here on this page, the battle is 99% won. You will need a username, input whatever name you want. Then password should be in this format ABcd12$%. It means at least 2 uppercase letters, 2 lower case letters, 2 numbers and 2 special characters.
After this select OK or continue, whichever one you see. Then you will need to confirm your email, using the same epic browser. After this relax, you are done.
If for any reason you weren't successful or you got the "thank you for registering on clickbank, unfortunately we don't ………", then you need to start all over with another email and a freshly generated address, phone number postal code etc. But if you followed my tutorial, you should have no issues. If after all these, you weren't successful, well send me a mail at nohitchweb@gmail.com, provided you will be able to pay for my service.
Thank you and enjoy your account.
Share on your social media platforms, a lot of persons will need this…thank you..
Now it's up to you, your passion, your creativity and your own hard work. Whatever you do, always try to give value, because after all, that's what everyone else, yourself included, is looking for.
If you're unsure of what niche to pick or just doesn't know how to start your own affiliate marketing journey, I strongly urge you to take advantage of the Clickbank Groundzero Training
This is where and how I started and what I ultimately owe my success to. This is hands down the best place to start if you're new to affiliate marketing, where thousands of people have reached great success on their journey to earning from Clickbank, because this course really takes you to your goal from A to Z!
See how it changed my life and how it can change yours, by clicking here.
Any contributions?